da Vinci Surgery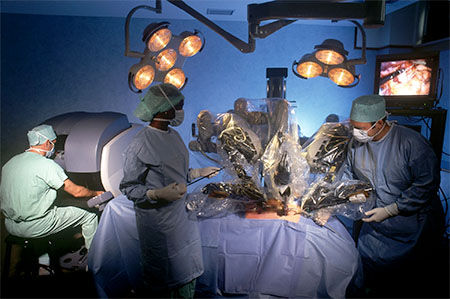 No woman ever looks forward to having surgery. Your whole being is filled with fear of the unknown. Your mind is preoccupied with questions about what the surgery entails, what the recovery time is like, and how the surgery will affect you and others in your life who love and support you. That is why it is good to know that your Raleigh OBGYN is keeping up with technological advances happening everyday in the field of gynecological surgery.
Laparoscopic surgery, also known as minimally invasive surgery, was once thought to be the most advanced surgical procedure in gynecology. Laparoscopic surgery uses small incisions in the skin in order to operate on or remove the tissue or organ that is causing health complications. While we still use it for some surgeries, it does have some disadvantages.
There is a limit to the surgeon's range of motion and can leave room for human error.

Laparoscopic surgical techniques utilize 2D technology which does not allow for good depth perception while operating.

Surgeons are forced to operate using tools rather than with their hands. The use of operating tools does not allow the surgeon to determine how much pressure is being applied to the patient, which can make surgery a much more difficult process.
Women's health care in Raleigh, NC has changed for the better now that the da Vinci Surgical System is available for gynecology.
What is the da Vinci Surgical System?
The da Vinci Surgical System is the newest, state of the art medical technology in minimally invasive surgery. It is an alternative to both open surgery and laparoscopy. The system uses a 3D high definition system that has a powerful advanced technology that allows surgeons to view the surgical area in breadth and depth. A robotic arm gives the surgeon much more dexterity and control than he would ever have using his own hands. The robotic arm is nimble enough to peel a grape or create the intricate paper folds required to make a tiny origami crane.
The da Vinci Surgical System can be used for the following gynecological surgeries:
Uterine Fibroids. Carolina Women's Health utilizes the da Vinci system during myomectomies (or the removal of fibroids), or during a hysterectomy (the removal of the uterus and possibly other reproductive organs).

Endometriosis. If you are suffering with endometriosis, then we can use the da Vinci system to remove the endometrial lining that is causing the painful binding of organs outside your uterus. You may also opt to have a hysterectomy using the same system.

Heavy Uterine Bleeding. Women with heavy uterine bleeding may opt for an endometrial ablation. This is a surgery where the endometrium is destroyed so that your menstrual cycles will become lighter or disappear. You may also opt for a hysterectomy.

Pelvic Prolapse. By the time your uterus has fallen to your vagina, you may want to seek a surgical option to move your uterus back into place

Cancers. The da Vinci Surgical System is especially beneficial for women with reproductive cancers. Removing cancerous tissues requires a level of precision that can best be achieved with the da Vinci system.
The da Vinci Surgical System is perfect for gynecological surgeries because it provides a freedom of movement that was not previously available. If you know that you have to have surgery, wouldn't you want to do it using the best, state of the art technology available to you? Women's health care in Raleigh, NC has changed for the better and Carolina Women's Health is ready to serve your needs.
Do you have questions about how the da Vinci Surgical System is right for your gynecological surgery? Don't be afraid to ask your gynecologist for more information.
Learn more about da Vinci Surgery on